You are not logged in.
Before you can reserve a spot, you must be a NYSN member. If you are a returning user please Sign in. New users please Sign up.
11/24/2022




8:45 am - 12:00 pm
THIS OPPORTUNITY IS FOR SETTING UP THE DISTRIBUTION CENTER AND VOLUNTEER CHECK-IN ONLY: There are hundreds of needy families and individuals in the Yorkville area of Manhattan that need your help to make their Thanksgiving more meaningful this year.  We are looking for a team of NYSN members and friends that are willing to give a few hours of their time to help this massive project that will help feed over 350 people in need.
Here is the deal:
1. PLEASE DO NOT SIGN UP FOR THIS OPPORTUNITY UNLESS YOU KNOW THAT YOU WILL 100% BE ABLE TO BE THERE. Every spare hand is needed.
2. You will meet at St Christopher's house at 8:45am.
3. Our group will be responsible for setting up the assembly line for food delivery as well as labeling bags, checking in volunteers and sending the delivery people on their way with the prepared meals.
4. We will be working until approximately 12pm.
5.  This is not an NYSN group event.  There will be other members of NYSN mixed in with dozens of other volunteers from many organizations.
PLEASE DON'T CANCEL. Cancellations will affect the whole process.  IF YOU REGISTER WITH A FRIEND PLEASE MAKE SURE THAT PERSON UNDERSTANDS HOW A CANCELLATION AFFECTS EVERYONE ELSE. (I have to put that in bold because too many times someone invites a friend who stays out too late the night before or sees that it is raining and does not come. This not only blocks someone else from volunteering who would have shown up, it makes the work for those that do show up harder.)
Can I come alone? Yes, 99% of those joining this event will likely come on their own.
Dress code.  Casual. You will be working with food so you may want to bring an apron.
Looking for more volunteer opportunities? Click here.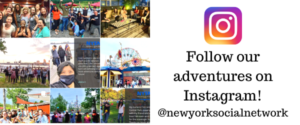 COVID-19 Protocols
In accordance with current city and state protocols vaccination status is not mandatory for this event.  However, we do ask that participants act in a responsible manner and do not attend if feeling ill, showing symptoms or have been recently exposed.  Mask wearing is optional unless the venue or city has mandated that.  Everyone should respect the comfort levels of others as we transition into this next phase of socializing in the Covid era.
This event is nonrefundable.  If you have tested positive for Covid and cannot attend, we will do our best to provide you with credits to select future events with a copy of your positive test results. Please note that due to the cost involved in some activities credits may not be used for the event you missed.
Address:
312 East 88th Street (Between 1st and 2nd Avenues)
,
New York
,
New York
,
10128
Description:

My venue content