You are not logged in.
Before you can reserve a spot, you must be a NYSN member. If you are a returning user please Sign in. New users please Sign up.
10/29/2022




7:45 am - 5:50 pm
The Empire State Trail is a recently completed series on rail trails that connects Battery Park all the way to Canada!  One of the most beautiful and historic sections runs from Poughkeepsie to Highland, NY.  It is about 5.5 miles each way passing through historic areas and over the Walkway Over The Hudson State Park.  Our trip will start and end in Poughkeepsie with a midway stop at Wilklow Orchards for food and drinks.
How it works:
The group will meet at the Poughkeepsie train station at 10:48am.  You can take the train or drive to meet the group there.
At the station you will walk over the walkway to your bikes. (You may also bring your own bike.)
We will ride from the Highland side of the Walkway to Wilklow Orchard stopping along the way to appreciate the historic points and enjoy the beautiful foliage.
At the orchard they have refreshments and a food stand.  You can also pick up fresh berries, fruits and veggies (bring a backpack).
We will head back to Highland and return the bikes.
You will be on the 5:50pm train at the latest.
Difficulty Level:
This trail is 5.5 miles in each direction.  It is flat and paved.  There will be a short portion where we will ride on the roadway that connects the rail trail to the farm (1/4 mile).  That portion has a slight incline.  This is a leisurely ride not a race, but you should be in good shape as to not hold up the group.
Features of the ride:
The Walkway Over the Hudson is a 1.2 mile train trestle that was built in 1889 and has been converted into a pedestrian walkway.  It offers amazing views of the Hudson Valley and the Catskill Mountains in the distance.
The rail trail beyond the Walkway meanders through beautiful wooded areas and through great rock formations.  The are also side paths to explore.  Along the path are remnants of the trains that once rolled through these woods.
Wilklow Orchard is a fun farm stand nestled at the base of the Illinois Mountain.  You can pick your own berries, sip on apple cider, order a personal pizza or sample some hard cider.
Cost:  $140 General admission /  $130 Lifetime VIP Members. Includes bike rental and guide fee only.
If you bring your own bike: General admission $70 /  Lifetime VIP $60
Recommended ages:  21+.  The main demographic will be 30s and 40s but there will be many 20s and even 50s so those folks will feel right at home.
Can I come alone? Yes, most guests do! It's a great way to meet new people.
Dress: Comfortable/Casual
Questions? Email Dave Cervini at dave@newyorksocialnetwork.com or call 212.873.2256, M-F 10am to 4pm.
Nonrefundable unless canceled.
Looking for more day trips outside the city? Click here.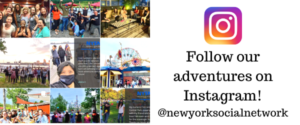 COVID-19 Protocols
In accordance with current city and state protocols vaccination status is not mandatory for this event.  However, we do ask that participants act in a responsible manner and do not attend if feeling ill, showing symptoms or have been recently exposed.  Mask wearing is optional unless the venue or city has mandated that.  Everyone should respect the comfort levels of others as we transition into this next phase of socializing in the Covid era.
This event is nonrefundable.  If you have tested positive for Covid and cannot attend, we will do our best to provide you with credits to select future events with a copy of your positive test results. Please note that due to the cost involved in some activities credits may not be used for the event you missed.
Address:
or Drive to Meet the group at PK Train Station
,
New York
,
Poughkeepsie
Description:

My venue content