Dave Cervini : Founder/President
Originally from Long Island then 21 years on the Upper West Side, Dave now lives where we do our hikes, camping trips, wine and Culinary Institute tours in the Hudson Valley. Dave Cervini spent 18 years in the broadcast industry with Promotion, marketing and on air personality positions at various New York Stations (WBAB @ 102.3, WYNY, WKTU both 103.5, and "BIG", "Jammin" and "Power 105" all @105.1). During those years, Dave has been responsible for or participated in producing many favorite New York events including the Broadway in Bryant Park lunchtime series, 'KTU'S Last Dance at Studio 54 and The Country Cares for St. Jude Kids Million Dollar Radiothons. Dave does commercial voice over spots, appeared in local TV commercials and several episodes of the sitcom "Whoopie". In 2004 he started The New York Social Network, an entertainment, planning and consulting company. He is involved with many charities including St. Jude Children's Research Hospital, The Marty Lyons Foundation, Broadway Cares, Covenant House, Boy's Town of Italy plus many local homeless shelters and food kitchens. In 2005 Dave was named Boys Towns of Italy's Man of the Year. In 2010 Dave was honored with the Sepentia Doctrina Award from Fordham University for his work organizing young professionals in NYC's spiritual communities. He graduated from the Ithaca College School of Communications (where he received a BS degree).
---
Maha Osman, MBA : Vice President
Maha is a marketing professional who started running events in college. Campus parties and concerts led to an internship at a NY radio station.  This internship transformed Maha's life when she realized you can have a profession by just having fun.  She continued her profession in marketing for media companies, artist management, community relations but events have always been the common theme of every step in her career.  Maha officially started with NYSN in 2007.   As VP, her responsibilities are largely operational: event coordination, schedule management, supply distribution, quality control (Are you having fun?  Could we be having more fun?) manage the hosts (best part) and ICE BREAKERS, wanna play a game?  Let's play a game!  Maha values the importance of charity and has served on the board of three non-profit organizations, and continues to volunteer for causes that are close to her heart. She loves bringing people together and trying new things.   She loves everything about NYSN, a company she is proud to be a part of.
---
Caitlyn : Event Host, Website Manager & Social Media Director
Joined : 2016
Born and raised in New York City, Caitlyn is the stereotypical New Yorker.  Dirty martini in one hand and her cell phone in the other, you'll always catch Caitlyn snapping pictures and laughing at her own jokes. Like all NYSN hosts, Caitlyn loves to meet new people and explore the never ending adventures of NYC.
---
Lauren : Event Host & Schedule Coordinator
Joined : 2017
Originally from Boulder, Colorado, and moved to NYC 8 years ago. She has a pitbull named Porkchop, who she is weirdly obsessed with, and despite living in NYC she is still a die-hard Broncos fan (obvi). In addition to hosting NYSN events, Lauren also hosts bi-monthly drag shows, and she loves all things glitter, unicorn and rainbow.
---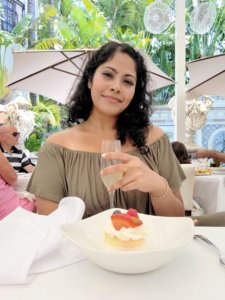 Neera : Event Host & Payroll Coordinator
Joined : 2017
A transplant from Lawrence, Kansas (Go Jayhawks!), Neera now likes nothing more than exploring NYC. She loves spending time outdoors, travel, and is always on the lookout for her next adventure! She works in real estate technology, and is currently studying sustainability analytics at Columbia University.
---
Craig : Event Host & Admin
Joined : 2018
Craig not only works behind the scenes at NYSN on our website and our social media platforms but he is also a full time DJ. Fun Fact.. he can cook too! Craig loves the beach and going to the movies!
---
Lauren : Event Host
Joined : 2017
Originally from Maryland, Lauren moved to NYC in 2013 to pursue her career in fashion. She loves putting an outfit together, which can be found on her personal fashion blog. Lauren is a self-proclaimed karaoke queen, and is ready to belt out a tune at any given moment. She loves brunching (or eating out…or just eating in general), working out and exploring the city. Lauren recently got married so add wife into the mix of hats she wears.
---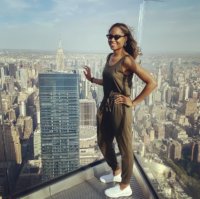 Georeen : Event Host & Admin
Joined : 2021
Georeen (the "G" is soft as in George) hosts and writes behind the scenes for NYSN. She is a New Jersey native who has called Washington state and Rhode Island home. New York City forever has her heart. As someone who refuses to drive it's a safe and blissful haven of endless entertainment. Catch her hoofing it at 100 miles an hour in black skinny jeans snapping photos at every step.
---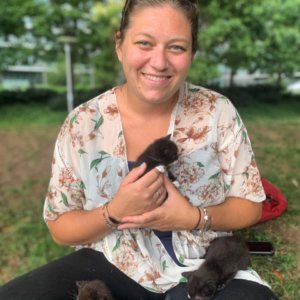 Emily : Event Host
Joined : 2021
Emily is a collector of jobs. Apart from working for NYSN she is a high school English teacher and a boat captain! She is also a lover of animals and currently lives with her ferret, Caesar, and her two cats, Buttercup and Blossom.  She is a self-proclaimed big nerd who loves to take really long walks around Queens while listening to a good audiobook.
---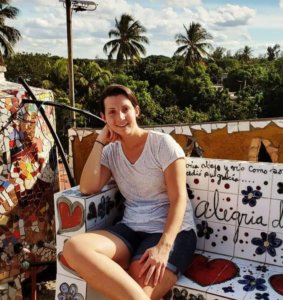 Abby : Event Host
Joined : 2021
Originally from Philly and moved to the Big Apple in 2012. Loves staying busy and being social. Huge dog lover and newly on the reality tv show bandwagon. Any other Bachelor or 90 Day Fiance fans out there?!
---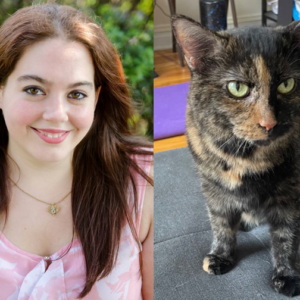 Alison : Event Host & Admin
Joined : 2021
Originally from Albany, NY, Alison moved to NYC in 2013. When not working with NYSN, Alison works in communications for a higher education company. She loves to bake, take walks in the park, and to consume anything television, movies, or Broadway. She lives with the cutest (and most opinionated) cat in the world in Queens.
---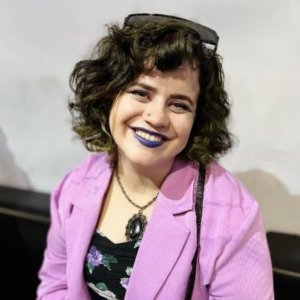 Johnni : Event Host
Joined : 2022
Johnni has been dancing too hard and singing too loud in Brooklyn for about five years now. Her cat Charlie runs her life and she spends an embarrassing amount of time hanging out in Greenwood Cemetery and playing Dungeons & Dragons. If you're brave, strike up a conversation with her about video essayists or extraterrestrial life.