Looking for a fun team building exercise for co-workers that is ACTUALLY  FUN? Want to have an EPIC BIRTHDAY? How about a group Winery Tour in Hudson Valley with your friends? Want to explore NYC with a private walking tour for your family? The New York Social Network has over 35 years of experience in planning parties and events in and around the New York City area. We will create the custom experience that you are looking for.
Our TOP 3 Best Selling Group Events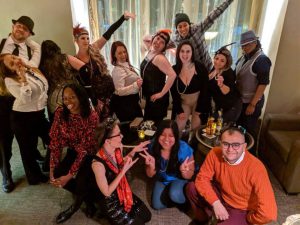 Murder Mysteries: Each guest is assigned a character and EVERYONE is a suspect. Invite your people to dress up & enjoy a night filled with scandal, thrills, and suspicious activity. During the party, one of your guests will DROP DEAD and it is up to you to find the Murderer!
Themes: 80's Prom, Millionaire Murder, Vegas Sin City, Lights Camera Murder (Hollywood), Trailer Park Tragedy, Ho Ho Homicide,  etc.

Trivia  / Game Show!: We'll separate your party into groups and test their knowledge with trivia questions. These can be themed or general, depending on what you'd prefer! The event is the perfect combination of  educational, competitive and silly! Everyone will be engaged and the competition will be a blast!
Themed Mystery Scavenger Hunt: All the teamwork & exploration of a scavenger hunt. Choose any of our themed scavenger hunts to learn new things, collect the clues, and unscramble letters to solve a mystery! This event will really have your friends / coworkers / family  working hard to win!
*Ask about Return to Office Hunts. We can customize an in office Scavenger Hunt.
So many more options are available for your private event. Contact us today for a full list!
NYSN guarantees that we'll get your employees, coworkers, friends, and family socializing and having fun!  Contact us today and find out how we can help you make your events extraordinary!  Call 212-873-2256 or email us at dave@newyorksocialnetwork.com