You are not logged in.
Before you can reserve a spot, you must be a NYSN member. If you are a returning user please Sign in. New users please Sign up.
12/04/2022




8:40 am - 4:50 pm
Spend a crisp fall day out of the city and explore the beautiful Hudson Valley!  The Mt Rutsen Loop at Ferncliff Forest is an easy 2 mile loop highlighted by the climb up the fire tower for spectacular 360 degree views of the valley and the Catskill Mountains. We will also visit the town of Rhinebeck and enjoy lunch and a beer tasting at The Cafeteria at The Culinary Institute of America.
What to expect from the Mt Rutsen Fire Tower Loop Hike:
You will take the 8:43am Metro-North train to Poughkeepsie (or you can drive to meet the group at the station at 10:41am).
Your guide will pick you up and drive you to Ferncliff Forest for the hike (2 miles/1 hour).
Following the hike we will walk though the village of Rhinebeck, NY.
From Rhinebeck  we will head over to The Culinary Institute of America's Cafeteria for lunch.
After lunch you can opt in to sample some of the CIA's Craft Beers (optional).
You will be back on the 4:54pm train at the latest.
Cost:
$115- General Admission /  $105 Lifetime VIP with Beer Tasting
$85 – General Admission / $75 Lifetime VIP without Beer Tasting
Included: Transportation to and from Poughkeepsie and to all attractions.  Hike & Guide fees.  Beer tasting is optional and can be purchased separately.
Not included: Since not everyone will be taking the train, train fare is not included.  Lunch (approx. $10-$15).
About the hike:
This is a level 2/3 hike out of 10.  It is about 2 miles.  There are rocks and roots on the path in some places and there will be leaves on the ground that may make it a little slippery.  There are spectacular views from the top of the fire tower of the valley and the Catskill Mountains in the distance.
Can I come alone? Yes, most guests do! It's a great way to meet new people.
Dress Code:  Dress for the weather.  Hiking shoes strongly recommended. Sneakers are okay, too.
Ages: 21+
Questions? Email Dave Cervini at dave@newyorksocialnetwork.com or call 212.873.2256, M-F 10am to 4pm.
Nonrefundable unless canceled.
Looking for more Outdoor Adventures ? Click here.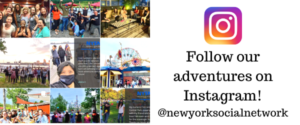 Address:
or Drive to Meet the group at PK Train Station
,
New York
,
Poughkeepsie
Description:

My venue content