You are not logged in.
Before you can reserve a spot, you must be a NYSN member. If you are a returning user please Sign in. New users please Sign up.
03/18/2023




7:42 am - 3:50 pm
Water ProofIf you are looking for some fresh air, great views, a good workout and conversations join us for The BIG Hudson Valley 2 Bridges Walk!  This will be our BIGGEST hike/walk ever since you can easily get to the starting point by public transportation!  You'll be crossing the Hudson River on the Mid Hudson Bridge and then the famous Walkway over the Hudson, the longest pedestrian walkway in the world at 1.28 miles! Along the way your guide will share the history and details of the bridges and surrounding area. The walk will also take us through  the tree-lined paths of Franny Reese State Park.  We'll have room for an unlimited amount of people.
Group/Walk Leader Dave Cervini
Here's the deal:
You will need to meet the group at the Poughkeepsie train station at 9:49 am.  You can take the train (7:42 am train from Grand Central Terminal) or drive and park there.
Your guide will meet you then start you on your journey.  The walk will begin through the historic streets of Poughkeepsie as we head to The Mid Hudson Bridge for stunning views and the art installation Bridge Music.
Along the way your guide will tell you the rich history of the area and the river.
Once over the bridge we'll make our way into Franny Reese Park to enjoy tree-lined paths and more great views.
After the park we will enjoy a fresh hot slice and soft drink at Pomodoro Pizza at the entrance to the Walkway.
After lunch we will walk over to the entrance of The Walkway Over The Hudson,  an old rail bridge built in 1889 that was converted into a walkway in 2009 with spectacular views.
After the walkway we will stop at a famous local bakery for treats.
The entire process with take 4 hours.
Expect to return to the train station in time for the 3:46 pm train back to the city.  You may also join the group at Mahony's Pub at the train station for an after walk beverage or snack!
What to bring:
1-2 liters of water
Water Proof Hiking shoes recommended
Cost: $35 General members / $25 Lifetime VIP members. Includes: guide fee, 1 pizza slice and one fountain or bottled soft drink
Not Included: train fare.  Other items purchased.
What to wear: Dress for the weather.  Comfortable shoes are recommended.
How difficult is the hike? From a technical perspective it is a level 2 or 3 as it is mostly on clear paths.  From a stamina perspective it is 6 miles with some uphill walking.  It is suggested that you are in good shape and have no physical issues that may hold the group back.
Can I come alone? Yes, most guests do! It's a great way to meet new people.
Dress Code: Dress for the weather. Hiking or comfortable shoes a must. Check www.weather.gov for Poughkeepsie forecast.
Ages: All ages
Questions? Email Dave Cervini at dave@newyorksocialnetwork.com or call 212.873.2256, M-F 10am to 4pm.
Nonrefundable unless canceled.
Illness Protocols/Refunds 
In accordance with current city and state protocols vaccination status or masks are not mandatory for this event.  However, we do ask that participants act in a responsible manner and do not attend if feeling ill, showing symptoms or have been recently exposed to any of the current illnesses. Mask wearing is optional unless the venue or city has mandated that.  Everyone should respect the comfort levels of others as we transition into this next phase of socializing.
This event is nonrefundable unless canceled.  If you have tested positive for Covid or are sick with any ailment  that prohibits you from attending, we will do our best to provide you with credits for select future events with a copy of your positive test results or doctor's note. Credits may or may not equal the cost of the event missed and may only be applied to events selected by NYSN.
Looking for more ways to get out of the city? Click here.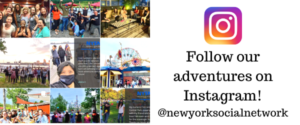 Address:
to Poughkeepsie
, Guide will meet you there,
New York
,
New York
,
10168
Description:

My venue content