You are not logged in.
Before you can reserve a spot, you must be a NYSN member. If you are a returning user please Sign in. New users please Sign up.
06/02/2023 - 06/04/2023




5:00 pm - 1:00 pm
Join us for a great weekend out of the city at our newest destination, The Hudson Valley Getaway House! Spend the weekend on a beautiful 4 acre property socializing, relaxing and exploring with friends.  Each weekend at the house will have a different theme to get you out and enjoying the fresh air, peacefulness and countryside of the Hudson Valley. This weekend we invite all members of all ages who love FOOD as we indulge at the Culinary Institute of America's famous restaurants!!!
The House:
The house is a modern and clean chalet style house in a wooded area in Highland, NY.  It is in the middle of the triangle of Poughkeepsie, New Paltz and Kingston, NY.  There are 3 bedrooms and 2 baths. A huge wraparound deck, a big fire pit, BBQ grill, meditation paths, games and plenty of room to unwind! Space is limited to 6 (plus Dave & additional host ) Take a virtual tour of the property
It's like a Bed & Breakfast on steroids!
House Host: Dave Cervini
How Do I Get There?
Most people will be taking the the 5:30pm Metro-North train to Poughkeepsie along the spectacular Hudson River Line for the group pick up at 7:09pm.  You may also drive.  Amtrak and Trailways also stop nearby.
If you wish to arrive between 5pm-7pm on Friday and are not traveling with the group, you may need to provide your own transportation to the house.
What to Expect:

A laidback weekend of mature NYSN members and friends gathering to explore and relax.
You can take Metro-North to Poughkeepsie or drive to the property. Approx 7:15pm arrival.
After you get settled into your rooms, the group will head to the Culinary Institutes for dinner at Bocuse French Restaurant.
After dinner we'll head back to the house for conversations under the stars.
On Saturday we'll have breakfast then have relaxing time before heading back to the CIA for lunch at The Egg which is the student run cafeteria.
After lunch enjoy a wine tasting at a local winery.
Following the wine samples it's back to the house to relax then we'll be off to dinner at American Bounty (farm-to- table) at the CIA.
If you are not in a food coma you can join us under the stars for late night conversations at the house!
Sunday morning breakfast, then check out at 11am.
Included:
Transportation from Poughkeepsie train to and from the house and to all activities for the weekend.
3 course dinner on Friday
3 course dinner Saturday
Lunch at The Egg cafeteria Saturday (entrée and soft drink)
Breakfast to order on Saturday and Sunday morning (eggs, omelets, fruits, grains, coffee, tea, juices).
Snacks and beverages.
Wine tasting.
Activities at the house.
Linens and towels. Cleaning fees, host fees, taxes and gratuities.
Accommodations/ Cost:
All shared rooms would be gender specific
Room 1: 2 twin beds w/ shared full bath $675 per person ($650 VIP Members)
Room 2: 1 (SOLD OUT) Queen Size bed w/ shared full bath $875 ($300 supplement to share bed with partner, significant other or friend)
Room 3: (SOLD OUT)The master bedroom features 2 queen size airbeds that are very comfortable with an in- suite full bath.  $675 per person. ($650 VIP Members) ($400 supplement to make this room private or share with a partner, significant other or friend).
The Loft: The loft features a huge comfortable daybed and is located outside the Master Suite. Shared full bath  $500
Not Included:  Train fare, anything purchased along the way, alcohol with dinners.
Can I come alone?  Yes. 99% will be on their own.
Ages 21+
Nonrefundable after May 21st.
Dress: Casual.  Dress for the weather
Questions?  Call house host Dave Cervini at 212-873-2256 or email dave@newyorksocialnetwork.com
Illness Protocols/Refunds
In accordance with current city and state protocols vaccination status or masks are not mandatory for this event.  However, we do ask that participants act in a responsible manner and do not attend if feeling ill, showing symptoms or have been recently exposed to any of the current illnesses..  Mask wearing is optional unless the venue or city has mandated that.  Everyone should respect the comfort levels of others as we transition into this next phase of socializing.
This event is nonrefundable unless canceled.  If you have tested positive for Covid or are sick with any ailment  that prohibits you from attending, we will do our best to provide you with credits for select future events with a copy of your positive test results or doctor's note. Credits may or may not equal the cost of the event missed and may only be applied to events selected by NYSN.
Looking for more foodie adventures? Click here.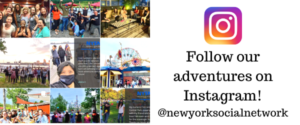 Address:
Grand Central to Poughkeepsie Or you can drive
,
New York
,
New York