You are not logged in.
Before you can reserve a spot, you must be a NYSN member. If you are a returning user please Sign in. New users please Sign up.
07/10/2022




11:30 am - 1:30 pm
On this cruise we will pass by charming bayfront towns, sprawling beaches and pristine ocean dunes as you sail through the calm waters of the Long Island bays. There is a guided eco tour while you are on the boat and you will be able to see birds and learn about the nature and history of Long Island's south shore!
Here's the deal:
You will need to arrive at the Freeport Water Taxi at 11:30am for check in located at 211 Woodcleft Ave, Freeport, NY 11520
Your guide will meet you then start you on your journey.  You will get on the Freeport Water Taxi where you will be greeted by the captain and host of the event
The group will walk around in the area and board at 12pm
The boat will take off and take us around for two hours where there will be music, mimosas (and other drinks) and time to socialize.
While on the boat, the host will show you the various sights and history of the area. You will get a guided tour of the bay houses, local history, eco and conservation projects, and the different animals that call these waters home.
The boat is located on the Nautical Mile in Freeport which is a mile long strip of bars and restaurants to hang out at after.
The boat is pet friendly, so if you'd like to come with a pet they are welcome for no additional cost.
Rules:
You must wear a face mask when interacting with others but you may take them off whilst seated.
We will take your temperature when you arrive
We can all keep a safe distance on the boat, which is 44ft long.
If you have any inclination that you may have been exposed or feel sick do not come. You will get credits towards select events.
Cost: $35 General members / $30 Lifetime VIP members. (Includes guide fee, 1 mimosa or soft drink) Train fare not included.
What to wear: Layers. It's a little cooler on water than on land.  Dress for the weather.
Will I get sea sick?  No one has ever gotten sea sick before!  We will be on the local bays which do not have waves like the ocean. The boat moves between 5 and 10 miles an hour.
Recommended ages:  21+
Can I come alone? Yes, most guests do! It's a great way to meet new people.
Questions? Email Dave Cervini at dave@newyorksocialnetwork.com or call 212.873.2256, M-F 10am to 4pm.
Nonrefundable unless canceled.
Looking for more activities outside the city? Click here.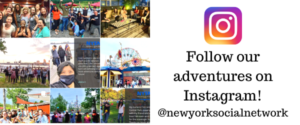 Address:
211 Woodcleft Avenue
,
Freeport
,
NY
,
11520
,
United States