You are not logged in.
Before you can reserve a spot, you must be a NYSN member. If you are a returning user please Sign in. New users please Sign up.
03/11/2023




8:45 am - 5:50 pm
The Culinary Institute of America (CIA) is the world's premier culinary institute in Hyde Park, NY.  Enjoy a day out of the city with other members of the group as we dine at the all new temporary pop up Post Road Brew House Restaurant for lunch and a special visit to the DIA Museum in Beacon, NY.
How it works:
Take the 8:45am Metro-North train from Grand Central or points north to Beacon, NY (60 miles north of NYC). You may also drive to meet the group at the train station.
Your guide will pick you up and bring you to the famous DIA Museum to explore the gigantic installation artworks.
After the museum we will visit CIA campus overlooking the Hudson River to enjoy lunch at Post Road Brew House.  The Post Road Brew House is a special "limited time only" restaurant at the CIA.
You will be back on the 5:50pm train at the latest.
Please note that you will be going to Beacon train station and leaving from Poughkeepsie train station.
Cost: $175 general members /$165 for VIP members Includes: Appetizer, main, dessert, coffee/tea and non alcoholic beverage, tax/gratuity, contribution to host meal, admission to the museum and transportation to and from the train.

MENU (one from each)
Bread and Butter
Daily Assorted Bread with Local Butter Board
LOBSTER Bisque
Maine Lobster, Applejack, Sourdough Crostini
Smoked Brisket Poutine
Local Curds, Brisket Gravy
Charcuterie Board
Assorted Local Meats and Cheeses, Pickled Vegetables
Duck Confit Salad
Frisée, Apple, Fennel, Candied Walnuts, Sherry Vinaigrette, Poached Egg
Mac 'n' Cheese Bites
Truffle Sauce
Grilled Baby Octopus
Salted Smashed Potatoes, Radicchio, Orange Segments, Citrus Vinaigrette
Smoked and Roasted Carrots
Lemon Tahini, Feta, Pistachios, Cured Lemon
Mussels
Chorizo, Saffron, Garlic Tomato Broth, Sourdough
Tuna Niçoise
Seared Tuna, Green Bean, Fingerling Potatoes, Blistered Tomato, 6-Minute Egg, Red Wine Vinaigrette
Chicken Caesar Salad
Romaine, Parmigiano Reggiano, Garlic, Chives, Crostini
Shirred Egg
Mushroom, Kale, Pickled Shallots, Parsley, Toast Points
Main Dish
PRBH Burger
Bacon, Egg, Cheddar, Beets, Brioche, Rosemary-Garlic Fries
Classic Cassoulet
Tarbia Beans, Confit Duck Leg, Garlic Sausage, Braised Bacon
Beet Bourguignon
Baby Beet, Fingerling Potatoes, Portobello Mushrooms
Ramen
Pozole Broth, Braised Pork Belly, 6-Minute Egg, Green Onions, Cilantro Oil
Steak Frites
Beef Sirloin, Parmesan Fries, House-made Steak Sauce
Port Braised Short Ribs
Local Polenta, Bacon Lardons, Pearl Onions, Mushrooms, Crispy Onions
Australian Meat Pie
Mashed Postatoes, Peas, Gravy
Fish and Chips
Beer Batter, Tartare Sauce, Apple- Fennel Slaw, Salt & Vinegar Chips
Dessert
Butterscotch Bourbon Pudding
Candied Bacon
Brookie Sundae
Brownie Meets Cookie
Mille crêpe
Nutella, Banana Brûlée, Chantilly Cream
Apple Tarte Tatin
Burnt Sugar Ice Cream
Assorted Ice Cream or Sorbet
Recommended ages:  21+.  The main demographic will be 30s and 40s but there will be many 20s and even 50s so those folks will feel right at home.
Can I come alone? Yes, most guests do! It's a great way to meet new people.
Dress: comfortable/casual
Questions? Email Dave Cervini at dave@newyorksocialnetwork.com or call 212.873.2256, M-F 10am to 4pm.
Nonrefundable unless canceled.
Illness Protocols/Refunds
In accordance with current city and state protocols vaccination status or masks are not mandatory for this event.  However, we do ask that participants act in a responsible manner and do not attend if feeling ill, showing symptoms or have been recently exposed to any of the current illnesses..  Mask wearing is optional unless the venue or city has mandated that.  Everyone should respect the comfort levels of others as we transition into this next phase of socializing.
This event is nonrefundable unless canceled.  If you have tested positive for Covid or are sick with any ailment  that prohibits you from attending, we will do our best to provide you with credits for select future events with a copy of your positive test results or doctor's note. Credits may or may not equal the cost of the event missed and may only be applied to events selected by NYSN.
Looking for more foodie adventures? Click here.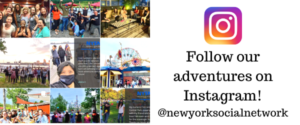 Address:
or Drive to Meet the group at PK Train Station
,
New York
,
Poughkeepsie
Description:

My venue content