You are not logged in.
Before you can reserve a spot, you must be a NYSN member. If you are a returning user please Sign in. New users please Sign up.
03/03/2023 - 03/05/2023




5:00 pm - 1:00 pm
At this time the Master Bedroom is the only space left: Spend a wonderful exclusive winter weekend at a beautiful 152-year-old mansion on 26 acres overlooking the Hudson River while enjoying 3 amazing meals at the famous Culinary Institute of America!  This is a special and rare opportunity for many reasons as we will explain below.
Vinecroft Estate is rarely available for experiences like this and we are the only ones able to offer such an experience!  It has been 6 years since the house was open to anyone! The other rare part of this weekend is that one of the restaurants we will be going to will be The Post Road Brew House, a "pop up" restaurant at the Culinary Institute of America. The Brew House is a temporary restaurant added to their regular venues and is only open for one semester with limited hours.
What to expect from Culinary Institute of America 3 Restaurant Weekend w/ Stay at Vinecroft Mansion!!!
The House: (Virtual tour)

Built in 1871, it was the main house on a vineyard that grew table grapes.
It's located 65 miles north of NYC in Esopus, NY.  You may take Metro-North to Poughkeepsie where we will pick y0u up or you may drive directly to the house.
It's set on the bluffs overlooking the Hudson River directly across from the Vanderbilt Mansion.
Spacious with lots of nooks and crannies to relax with a book.  2 main common areas, a huge kitchen, 2 fireplaces (which we will use each night), 5 bedrooms, 5 baths, deck overlooking the river, 26 acres to walk around.
This is the main house for the property where we host our camping trips.
See photos below.
The Plan:
Friday
5:30pm arrive, get settled at the house and enjoy a glass of wine by the fire
7pm three course dinner at Caterina De Medici Italian Restaurant at the CIA. Menu posted below is subject to change.
9:30pm wine and conversation in front of the fireplace at the Mansion.
Saturday
9am breakfast at the house (eggs, protein, French toast, grains, fruits, muffins, coffee, tea, juices)
10:30am relaxation time
1pm lunch at the Post Road Brew House, a temporary "pop-up" restaurant at the CIA. (Menu will be posted in early January. It will be upscale gastro pub food.***)
3pm wine tasting at The Millbrook Winery
5:30pm return to house to freshen up, wine cheese and crackers
6:30pm three course dinner at Bocuse French Restaurant (see menu below, subject to change)
9pm wine and conversation in front of the fireplace at the house
***Please note that lunch at The Post Road Brew House will be Pay As You Go so that you will have more control over the the total volume of food you consume for the weekend.
Sunday
9am breakfast at the house.
12pm check out, return to train
Rooms/Costs:
All rooms are single occupancy unless you bring an additional guest and pay the supplement.
****Lifetime VIP members will be refunded $25 for each reservation after purchase.
The Master Bedroom: 1 Double Bed, private bath, river views, private deck.  $925 (Supplement  $350 for additional guest/shared bed)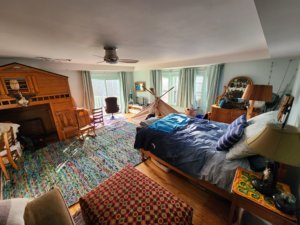 SOLD OUT: The Alkar Apartment: This is a separate apartment in the house with bedroom, sitting area, Queen size bed, private bathroom, TV, river views $1075 (Supplement  $300 for additional guest/shared bed)
SOLD OUT: The Hudson Room: 1 Queen bed, private bath, River views, $850, (Supplement  $350 for additional guest/shared bed)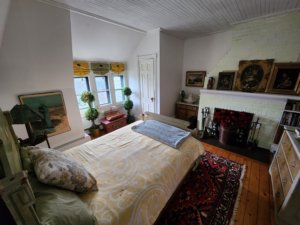 SOLD OUT: The Library Room:  1 full size bed /shared bath. Overlooking river $750, (Supplement  $350 for additional guest/shared bed.  $450 for additional guest w/ King size inflatable bed)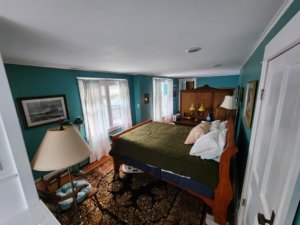 SOLD OUT: The Museum Room:  Pull out couch with full size bed, shared bath. Front view. $550 (Supplement  $250 for additional guest/shared bed)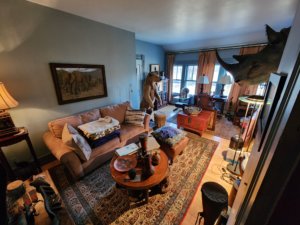 Included:
Two nights accommodation
Transportation to and from train station and to all activities during the weekend
Three course dinner at Caterina Restaurant Friday (tax, tip, 3 courses, coffee, tea, mocktail), alcohol extra
Dinner at Bocuse restaurant (three courses, tax , tip, coffee, tea, mocktail), alcohol extra.
Breakfast at house (eggs, protein, grains, French toast, fresh fruit, coffee, tea, juices)
Wine, hard cider, beer and soft drinks at house
Wine tasting at Millbrook Winery
Snacks at house
Linens & towels
Cleaning fees
House host
WIFI is available
Not Included:
Train fare
Alcohol with dinner
Lunch at The Post Road Brew House.  This meal is not included so that you can decide how much or how little you want to eat as far as courses go.  You may just want appetizers at Post Road or a three course meal.  We don't want to ruin your appetite for dinner!!
Other Info
99% of those attending will likely be coming on their own.
Ages will likely be 30s-50s
Dress code: casual / neat
Illness Protocols/Refunds 
In accordance with current city and state protocols vaccination status or masks are not mandatory for this event.  However, we do ask that participants act in a responsible manner and do not attend if feeling ill, showing symptoms or have been recently exposed to any of the current illnesses. Mask wearing is optional unless the venue or city has mandated that.  Everyone should respect the comfort levels of others as we transition into this next phase of socializing.
This event is nonrefundable unless canceled.  If you have tested positive for Covid or are sick with any ailment  that prohibits you from attending, we will do our best to provide you with credits for select future events with a copy of your positive test results or doctor's note. Credits may or may not equal the cost of the event missed and may only be applied to events selected by NYSN.
Nonrefundable unless trip is canceled.
Looking for more activities outside the city? Click here.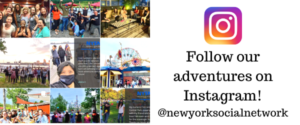 Address:
from Grand Central
, Your guide will meet you in Pougkeepsie,
New York
,
New York
,
10019
Description:

My venue content