You are not logged in.
Before you can reserve a spot, you must be a NYSN member. If you are a returning user please Sign in. New users please Sign up.
06/24/2022 - 06/26/2022




6:00 pm - 5:00 pm
AS OF 5PM ON THURSDAY WE HAVE ONE FEMALE SPACE AVAILABLE.  Fire Island is one of the most exclusive and beautiful vacation spots in the New York area. There are no cars allowed on this island of bungalows, quaint villages, fun bars, miles of uncrowded beaches and rolling sand dunes. This will be our 9th year at this amazing newly renovated upscale house that offers spectacular views of the bay, the lighthouse and is only a very short walk to the ocean!  Don't miss this awesome opportunity to spend the weekend out of the city with other fun members of New York Social Network.
Check out the location: Fire Island House
All these activities/amenities are available. You can do as much or as little as you'd like:
Days on the beach (beach chairs and umbrellas are provided)
Check out dozens of fireworks displays from the island towns or across the bay while sitting on the deck.
Biking
Relaxing
Group dinners on the outside deck
Visits to the different villages
Kayaking on the bay
Visit the Lighthouse
Plenty of relaxing time
Lunches on the beach at the house or at one of the bayside taverns
Nights on the deck or cocktails at the local taverns
Leave as late as 5pm Sunday
There are 3 rooms with 2 twin beds and 2 rooms with a single full-size bed.  If you do not know anyone in the group we will do our best to match you with someone like you (although not much time will be spent in your rooms).
The house features:
2 levels with 2,000 sq. ft. of outside decking, 3 shared bedrooms, 2 single rooms, two full baths and one-half bathroom, 4 houses from the bay (great for kayaking) and 100 yards to the ocean. All modern and newly renovated with large bright open air spaces. WIFI is available.
PRICING:
$325pp: Shared Room / 2 per room $300 VIP Members
$495 General members, $475:  VIP members Single Room (If bringing a significant other or sharing the full size bed there will be a $200 supplement)
You may combine weekday-weekend packages.  Just register separately.  If staying over on a weekend – weekday package there will be a $50 additional fee.
Included:
-2 nights
-Linens/towels
-Cleaning service
-House basics: coffee, tea, milk, paper goods, access to laundry
-Access to beach chairs, umbrellas, bikes, kayak, bbq, etc.
How do I get there?
-You can drive to Bayshore and take ferry to Fire Island
-Take Long Island Rail Road to Bayshore, 5 minute cab ride to ferry dock, then ferry to island
-We will set a meeting time in the city for those who wish to travel together.
What to expect?
-a group of 10 mellow New York Social Network members and friends. Male/female 30's, 40's, couples friendly
Will I feel comfortable coming alone? Yes! most all of those coming will be coming alone.  These weekends are some of the best opportunities to meet others in a fun, quality and casual setting.  Everyone is connected through the group.
What to bring:
-bathing suite, sunblock, beach towel
-There are stores and shops in village for snacks
-Face masks and hand sanitizer
Questions? Call Dave at 212-873-2256 or e-mail dave@newyorksocialnetwork.com
Rain or shine: payments nonrefundable after 5/15/22
COVID-19 Protocols
In accordance with current city and state protocols vaccination status is not mandatory for this event.  However, we do ask that participants act in a responsible manner and do not attend if feeling ill, showing symptoms or have been recently exposed.  Mask wearing is optional unless the venue or city has mandated that.  Everyone should respect the comfort levels of others as we transition into this next phase of socializing in the Covid era.
This event is nonrefundable.  If you have tested positive for Covid and cannot attend, we will do our best to provide you with credits to select future events with a copy of your positive test results. Please note that due to the cost involved in some activities credits may not be used for the event you missed.
Tentative Schedule: This is a loose schedule. You can do as much or as little as you would like.
Friday:
6pm-8:30pm: Arrivals Happy Hour begins, drinks on the deck
9pm: Dinner at local tavern
Drinks on deck/drinks at Town Bars
Saturday:
9am: Breakfast at your leisure
10am: Beach, deck, wander…..
1pm: Lunch in village. Meet at house if you wish to join. (you may bring your own lunch fixin's)
2:30: walk to light house
6pm: dinner
7pm: At leisure
Sunday
9am: breakfast at your leisure
10am: beach, wander, etc.  Out of rooms
1pm meet for lunch options
5pm check out
Nonrefundable after 5/15/22
Looking for more trips outside the city? Click here.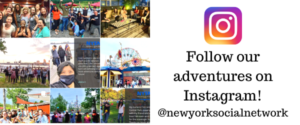 Address:
Kismet
,
Fire Island
,
New York
,
11706
Description:

My venue content