You are not logged in.
Before you can reserve a spot, you must be a NYSN member. If you are a returning user please Sign in. New users please Sign up.
11/11/2022




6:30 pm - 9:30 pm
Our Murder Mystery Parties are  an awesome alternative to the usual bar scene.  It is a great way to go out on your own or with friends and meet other fun people in a super organized and interesting way!  This week we present our  Jazz Age Murder Mystery where in a swanky NYC nightclub during prohibition, a grizzly murder takes place and everyone is a suspect!  No expertise is necessary–just your love of having fun!
What to expect:
Register below and join us at The Market Bar at Citizens Food Hall Between 6:30- 7pm.
Our NYSN staff will be on hand to welcome you, introduce you to others and explain how the night works.
Everyone will be given a character sheet explaining who they are and how they fit into the story.
Your Jazz Host will guide you through the story and help you interact with the others at the event to help you solve the murder. Throughout the night different things will be revealed to help you reach your goal.
The Theme:
During a night of Prohibition-era revelry, something goes terribly wrong.
Backstory
The guests are a mixed group of club staff members, entertainers, and guests at a private party held at a jazz club in 1920s New York City. It is the height of the Jazz Age, and social revolution is afoot. This is the age of Prohibition—and of bootleggers and gangsters. Club owner Felix Fontano, the son of a successful bootlegger and crime boss—and a successful businessman himself—is throwing this private party for a group of select friends. It is a night of revelry like many other nights of revelry enjoyed by this group of sophisticates, artists, and hoodlums . . . until things go horribly wrong.
Cost: $30 general members / $20 VIP members
Recommended ages:  21+.
Can I come alone? Yes, most guests do! It's a great way to meet new people.
Dress: Casual, but neat. If you want to get into character, feel free to dress your gangster/flapper best!
Questions? Email Dave Cervini at dave@newyorksocialnetwork.com or call 212.873.2256, M-F 10am to 4pm.
Nonrefundable unless canceled.
About the event:  This Murder Mystery is hosted by The New York Social Network. We are not a professional Murder Mystery company.  We are a social organization that offers these activities as part of our events for people to enjoy a night out, try something different, make friends, celebrate an occasion with groups of  friends, etc.  It is done in a very fun and casual way at a local lounge. THIS IS NOT A DINNER EVENT. It is more of a cocktail party atmosphere.   Some people get really into it and come dressed up for the theme and others just come to have fun–it's up to you! The main thing is to have fun! If you have any questions feel free to reach out to us at 212-873-2256. Or email dave@newyorksocialnetwork.com.
COVID-19 Protocols
In accordance with current city and state protocols vaccination status is not mandatory for this event.  However, we do ask that participants act in a responsible manner and do not attend if feeling ill, showing symptoms or have been recently exposed.  Mask wearing is optional unless the venue or city has mandated that.  Everyone should respect the comfort levels of others as we transition into this next phase of socializing in the Covid era.
This event is nonrefundable.  If you have tested positive for Covid and cannot attend, we will do our best to provide you with credits to select future events with a copy of your positive test results. Please note that due to the cost involved in some activities credits may not be used for the event you missed.
Looking for more murder mysteries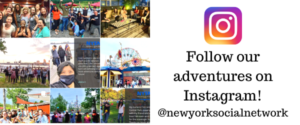 Address:
398 10th Avenue
, (between 32nd & 33rd Street) 2nd floor,
New York
,
New York
,
10001
,
United States