You are not logged in.
Before you can reserve a spot, you must be a NYSN member. If you are a returning user please Sign in. New users please Sign up.
09/03/2022 - 09/05/2022




8:45 am - 2:00 pm
THIS IS OUR LAST MULTI DAY CAMPING TRIP OF THE SEASON AND THE WEATHER IS LOOKING GREAT!: This trip is great for novice and seasoned campers alike because we supply almost everything you need!  Celebrate Labor Day Weekend (SATURDAY-MONDAY) the right way with a great camping trip with fun people. We have the ultimate private campsite nestled on the shores of the pristine fresh water Hudson River near New Paltz, NY.  We supply everything except a sleeping bag or blanket and pillow (private tents, sleeping bags and air mattresses are available, rental info below). You may drive directly to the campsite or take the train.
Vinecroft Estate has 26 acres of private secluded land on the shores of the Hudson River complete with a private dock, huge fire pit, boathouse, hiking trails, hammocks, horseshoe pits, BBQ's, picnic tables, lounge chairs and more. There is nothing across the river but trees and nothing near the camp except the main house (10 minute walk).  You will watch the sunrise each morning and be dazzled by the stars at night. Take the virtual campsite tour.
Activities:
You can do all, nothing or something in between. Hiking, kayaking, swimming, canoeing, winery visits, relaxing by the river, delicious food, happy hours, conversations by the fire, games and more.
Costs:

Saturday-Monday:
Using our transportation during the weekend: $325 ($300 for VIP Members)
Using your own Transportation during the weekend:  $275 ($250 for VIP Members) This means that you drive to the campsite on your own and follow our van to the different activities (all within short distances).
Don't have any equipment, not to worry!
Tent rental $20
Air Mattress Rental $10
Sleeping bag rental $10
The weekend will include:
-2 nights/3 days at Vinecroft Estate Private Campsite.  Departure is 1pm Monday
-All meals carefully and deliciously grilled to perfection.  Fish, meat, salads, veggies, desserts, breakfast.  Bottled water is available all weekend.
-Soft drinks and adult beverages
-Snacks
-Hiking, kayaking, wineries, guides, park fees and donations, equipment use, taxes, tips (Hikes will be moderate)
-Transportation from train station to all attractions
Not Included: Lunch Sunday, winery / cider sample fees, train fare
All you need to bring: sleeping bag or blanket, pillow, sunblock, hiking shoes or sturdy sneakers, bug spray, bathing suit, towel, flashlight, change of clothes.
Is there a bathroom? A private clean eco-composting toilet is on site.  There is also a outdoor private hot water shower and faucet for washing/bathing (or jump in the river)
Can I come alone? YES, YES, YES, 98% of the group will be coming on their own. There is no better trip that we run where you can really get to know people. If you feel uncomfortable we'll take you back to the train station which is only 10 minutes away.
What to expect: 8-14 laid back, fun people enjoying the outdoors together doing various activities. Ages late 20s-early 50s, singles/maybe a couple, even split men and women.
Is it buggy?  That depends on the weather.  Bug spray is always recommended.
Are there bears? Not really in this area at all.  You may see deer, chipmunks,  wild turkeys.
Can I charge my personal electronics? There is no electricity at the campsite but we have a portable power inverter for that at the site that you can charge your personal electronics.
Refunds given only if the weekend is a washout and we do not go.
Schedule
Saturday: Arrive, set up camp, moderate hike, BBQ Lunch party, cidery visit, campsite happy hour & play time, dinner, bonfire.
Sunday: breakfast, relax/play, easy hike, visit Kingston Hooley on the Hudson Festival, return to camp for kayak, swim, games,  dinner, bonfire
Monday: breakfast, relax, break down camp, return to train at 11:50am
Weekend Menu will include:
Dinner (2 entrees each night buffet style)

fish, vegetarian selections, chicken, pasta, grilled veggies, fresh corn
a homemade dessert will be served after dinner each night
Breakfast

grilled eggs with veggies
pancakes with fresh maple syrup
fresh fruit
grains
bagels
toast
orange juice
fresh baked blueberry muffins and fresh baked banana muffins
COVID-19 Protocols: In accordance with current city and state protocols vaccination status is not mandatory for this event.  However, we do ask that participants act in a responsible manner and do not attend if feeling ill, showing symptoms or have been recently exposed.  Mask wearing is optional unless the venue or city has mandated that.  Everyone should respect the comfort levels of others as we transition into this next phase of socializing in the Covid era.
This event is nonrefundable.  If you have tested positive for Covid and cannot attend, we will do our best to provide you with credits to select future events with a copy of your positive test results. Please note that due to the cost involved in some activities credits may not be used for the event you missed.
Disclaimer
By registering for this event you acknowledge that you will be spending several days outdoors on undeveloped lands. There is always a chance that you will encounter unexpected weather, wildlife and environmental issues that are out of our control.
The terrain at the campsite and other areas that we travel to may be uneven, slippery, muddy and is even more challenging to navigate when dark.  This is why you will need a flashlight at all times after sundown.
Swimming, kayaking or any activities on or near the river are at your own risk.
By signing up for this event you take full responsibility for your actions and will not hold Dave Cervini Entertainment, their partners, agents or representatives harmless or liable for any injuries, accidents or losses as a result of your actions and decisions or acts of God or natural causes that occur during the trip.
When you register you will be asked to electronically confirm that you understand all conditions and will also be asked to sign an agreement when you arrive.
If you agree please continue to the registration page
In case of rain during any part of the weekend we will change plans to include some fun indoor activities.
Looking for more adventures outside the city? Click here.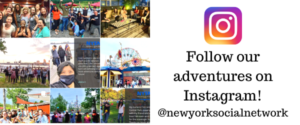 Address:
1685 Route 9W
,
Esopus
,
NY
,
12487
,
United States