You are not logged in.
Before you can reserve a spot, you must be a NYSN member. If you are a returning user please Sign in. New users please Sign up.
05/17/2023




7:00 pm - 9:00 pm
There is no better way to socialize than by sharing a meal with a fun group of people.  Add in a good mystery and a little friendly competition and you have the recipe for an amazing night of conversations, great food and fun!  This week's mystery: Murder at the Meetup.
How it works:
When you arrive at the venue our hosts will greet you, introduce you to the others and randomly seat you at the table.
We will create teams of 3-4 people for the actual mystery part.
You will have a chance to order from the menu. Order as much or as little as you'd like (meal not included).
Once you have placed your order each team will get to work trying to solve the mystery for the night.
Each mystery has a collection of 20-30 clues that follows a story where someone winds up finding their demise or missing.  Each team will be able to find the answers to the clues via online searches or common knowledge. You will need to bring a smartphone or laptop.
Each team will have 30 minutes to solve the mystery. The meal will be delayed so that it is ready by the time you have submitted your answers.
While you are enjoying talking about your experiences in finding the answers and eating, your host will tally up the scores and announce the winners!
Cost:  $15 General Members /  $10 Lifetime VIP members.  Includes admission only.  Food and drinks will be billed on separate checks.  Pay as you go.
How hard is the mystery?
Each mystery is designed to be fun and easy.  They are also slightly educational with historical and geographical information.
This Month's Story:
Murder at the Meetup

Everyone has been dying to get out since this whole pandemic lockdown ended!   You will follow the lives of several members of the fictitious  New York Social Distancing Meet Up Group as they plan a huge party to celebrate the lifting of the curfew at Covidteria a trendy new club in the West Village. Things all seem to be going well until one of the members obviously meets up with the wrong person and winds up dead!  You will interact with others from our group plus follow clues and Google search for many things that night to piece together what happened to Pandemic Paddy.
Can I come alone? Yes, most guests do! It's a great way to meet new people.
Dress Code:  Casual–wear green if you please!
Ages: 21+
Questions? Email Dave Cervini at dave@newyorksocialnetwork.com or call 212.873.2256, M-F 10am to 4pm.
Nonrefundable unless canceled.
Illness Protocols/Refunds
In accordance with current city and state protocols vaccination status or masks are not mandatory for this event.  However, we do ask that participants act in a responsible manner and do not attend if feeling ill, showing symptoms or have been recently exposed to any of the current illnesses..  Mask wearing is optional unless the venue or city has mandated that.  Everyone should respect the comfort levels of others as we transition into this next phase of socializing.
This event is nonrefundable unless canceled.  If you have tested positive for Covid or are sick with any ailment  that prohibits you from attending, we will do our best to provide you with credits for select future events with a copy of your positive test results or doctor's note. Credits may or may not equal the cost of the event missed and may only be applied to events selected by NYSN.
Looking for more Murder Mysteries? CLICK HERE.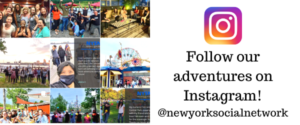 Address:
22 West 46th
, Between5th and 6th,
New York
,
N.Y.
,
10036
Description:

My venue content