You are not logged in.
Before you can reserve a spot, you must be a NYSN member. If you are a returning user please Sign in. New users please Sign up.
01/08/2022




6:00 pm - 8:30 pm
Our Murder Mystery Parties have become an awesome alternative to the usual bar scene.  It is a great way to go out on your own or with friends and meet other fun people in a super fun organized and interesting way!  This week we present  Murder At The Academy Awards where everyone is a suspect!  No expertise is necessary just your love of having fun!What to expect:
Register below and join us at Stout from 6-7pm for registration!
Our NYSN staff will be on hand to welcome you, introduce you to others and explain how the night works.
Everyone will be given a character sheet explaining who they are and how they fit into the story.
Your Host will guide you through the story and help you interact with the others at the event to help you solve the murder. Throughout the night different things will be revealed to help you reach your goal.
Following the Mystery Party, you are invited to stay at our social mixer at Stout for free!
****If you want to get into character, feel free to dress your Hollywood best! ******
The Story
After a night of accolades at the Academy Awards Show, you will attend the A-list after-party hosted by millionaire Vanity Affair. While socializing and schmoozing with Hollywood's elite, careers will be made, secrets will be revealed, scandals will be broken and a homicide will happen. With a V.I.P. victim and the celebrities all suspect, you will be called upon to find the criminal by cracking this red carpet caper. Will it be an aspiring actress, tired of living in the shadows? A faithful friend who has been pushed too far? Or possibly the teen starlet trying to attract a more mature audience? As the night unfolds, so will a web of lies and scandals intricately woven to point you to a killer. It is up to you to uncover the clues or the culprit will remain concealed. Come walk the blood red carpet and enjoy a night of secrets, celebrities & scandal.
This mystery is being sponsored by Oxygen's all-new series, New York Homicide, which examines the unforgettable crimes that rocked the boroughs and shook even the toughest of New Yorkers. Don't miss the series premiere Jan 1 at 10/9c on Oxygen.  And for more true crime news, local cases and never-before-seen video – sign up for Oxygen Insider now!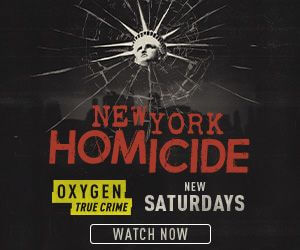 Covid 19 Protocols: Vaccinated
We ask for your cooperation and understanding during this unusual time.  Our guidelines are designed so that we can continue bringing together as many people as safely as possible.  If you do not agree with the guidelines we have set below you may wish to consider another event.

This event has been posted as a Vaccinated Only event.
You will need to show your vaccination card or Excelsior app upon arrival. (photo of your card is acceptable)
As per NYC guidelines facemasks are recommended when with our group indoors if not eating or drinking..
If you choose not to wear a mask while indoors please respect those that do and understand that those people may not wish to socialize with you.
If you do not have proof of vaccination you will not be admitted. No refund.
Can I come alone?  Yes, 98% of those attending this event will likely register on their own. You are welcome to bring as many nonmember guests, friends & coworkers as you'd like, just make sure to register for the number of people that you want below. Our staff will be ready to greet you and introduce you to others whether you are on your own or with guests.
Cost: $25 general members / $15 VIP members includes admission only.

Do I need a ticket?  Unless otherwise instructed, if you registered and paid for this event or registered with a voucher your name will be on a list at the door.  If you register within 3 hours of the event it is best to bring proof of payment.   If registering with a voucher, follow the instructions on the voucher.
Dress Code:  At all events we ask that you use your best judgement based on the event. There are never jackets and ties required unless specifically stated.  Keep it neat, be yourself and look your best always. Feel free to get dressed in your Hollywood best!
How will I find the group?  We will send you a confirmation email with exact locations, contact info and names of those who are hosting the event when you register for the event and send follow up emails as we get closer.
About the event:  This Murder Mystery is hosted by The New York Social Network. We are not a professional Murder Mystery company.  We are a social organization that offers these activities as part of our events for people to enjoy a night out, try something different, make friends, celebrate an occasion with groups of friends, etc.  It is done in a very fun and casual way at a local lounge. THIS IS NOT A DINNER EVENT. It is more of a cocktail party atmosphere.   Some people get really into it and come dressed up for the theme and others just come to have fun–it's up to you.  The main thing is to have fun! If you have any questions, feel free to reach out to us at 212-873-2256. Or email dave@newyorksocialnetwork.com.
Ages: 21+  Most of our events attract 20's -40's although some events can skew younger or older (50's) depending on the event. Some events are clearly age specific as indicated.   If this is an issue for you contact Dave at the address below and we can usually give you a very accurate idea of what to expect.
Questions?  Contact Dave Cervini at dave@newyorksocialnetwork.com or call 212-873-2256 M-F 10am-4pm
This event is nonrefundable unless the event is canceled or rescheduled.
By registering for this event, you take full responsibilities for your actions and agree to conduct yourself accordingly.
Address:
2nd Floor
, 60 East 41st Street at Park Avenue,
New York
,
New York
,
10017
,
United States
Description:

My venue content