You are not logged in.
Before you can reserve a spot, you must be a NYSN member. If you are a returning user please Sign in. New users please Sign up.
07/24/2022




1:00 pm - 3:00 pm
Get out and enjoy some fresh air with a fun evening designed to bring people together to socialize, explore and learn.  The South Street Seaport features some of the oldest architecture in downtown Manhattan and the brand new Pier 17. Did you know the very first pier appeared in 1625? Take a fun journey back in time as we present a fun evening of socializing, exploring, eating and drinking in a fun part of the city that many might not think to visit.
How it works:
-When you register we will send you the meeting information.
-We will put you on teams of up to 5 people depending on how many are registered.  You can come with your own teams, too (up to 5 people).
-Each team will be given a list of clues that they have 75 minutes to go into the historic district to find.  Most clues are easy stuff to find and things that are of historical significance.  Other things are just plain fun and goofy.
-All the teams will return to a designated spot at the seaport. After the winners are announced you may continue to socialize at any of the seaport's outdoor cafes!
Cost:  $25 General Admission in advance/ $15 VIP Members
COVID-19 Protocols
In accordance with current city and state protocols vaccination status is not mandatory for this event.  However, we do ask that participants act in a responsible manner and do not attend if feeling ill, showing symptoms or have been recently exposed.  Mask wearing is optional unless the venue or city has mandated that.  Everyone should respect the comfort levels of others as we transition into this next phase of socializing in the Covid era.
This event is nonrefundable.  If you have tested positive for Covid and cannot attend, we will do our best to provide you with credits to select future events with a copy of your positive test results. Please note that due to the cost involved in some activities credits may not be used for the event you missed.
Recommended ages:  21+
Can I come alone? Yes, most guests do! It's a great way to meet new people.
Dress: Casual and comfy
Questions? Email Dave Cervini at dave@newyorksocialnetwork.com or call 212.873.2256, M-F 10am to 4pm.
Nonrefundable unless canceled.
Looking for more scavenger hunts? Click here.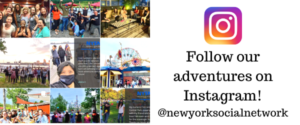 Venue Phone: 9177333154
Address:
Meet in front
, 207 – 211 Water Street,
New York
,
New York
,
10038
Description:

My venue content