You are not logged in.
Before you can reserve a spot, you must be a NYSN member. If you are a returning user please Sign in. New users please Sign up.
12/03/2022




3:30 pm - 6:00 pm
Whether you know nothing about art or love it, our Chelsea Art Gallery Tours are a fun and casual way to explore a great part of the city while socializing and making new friends and connections.
With over 300 art galleries in Chelsea, our Gallery Tour led by Rafael Risemberg with a Ph.D. in arts education finds the most innovative art, and leads you on an insightful, entertaining and affordable journey through the contemporary art scene. Rafael explains the art in ways that makes the experience meaningful to those who don't know a lot about art as well as those who do.
On this ALL-NEW tour, visit the most exceptional exhibits in Chelsea, the world's center for contemporary art! You'll see a mix of extraordinary painting, sculpture, electronic media and photography by artists of remarkable diversity.
Our tours take place no matter what the weather is like since we're indoors over 90% of the time. You will be amazed at how much you will learn and enjoy both the art and the people on the tour!  You will visit several cutting edge galleries.
Following the tour many in the group will likely grab a snack or burger and beer/wine.
Your host will meet you in front of  526 West 26th Street (near 10th Ave) at 3:30pm sharp.  Please bring exact change $30. Cash ONLY!
COVID-19 Protocols: Some galleries will require masks.
In accordance with current city and state protocols vaccination status is not mandatory for this event.  However, we do ask that participants act in a responsible manner and do not attend if feeling ill, showing symptoms or have been recently exposed.  Mask wearing is optional unless the venue or city has mandated that.  Everyone should respect the comfort levels of others as we transition into this next phase of socializing in the Covid era. Some galleries may require masks.
Pay $30 when you arrive (please bring exact cash)

DO NOT REGISTER FOR THIS EVENT UNLESS YOU WILL ACTUALLY ATTEND.
Can I come alone?  Yes 99% of the people come to this event on their own to meet new people and check out some cool art.
What do I wear? Dress for the weather.  Be casual and comfortable.
What to expect: We are piggy backing on a larger tour.   We will have 10-15 from our group.  The age range for our people is 20s -40s ( the larger group is 20s – 60s)
How long does it last? about 2 hours
Dress Code:  At all events we ask that you use your best judgement based on the event.  Keep it neat, be yourself and look your best always. Dress for the weather.
How will I find the group?  We will send you a confirmation email with exact locations, contact info and names of those who are hosting the event when you register for the event and send follow up emails as we get closer.
Ages: 21+
Questions?  Contact Dave Cervini at dave@newyorksocialnetwork.com or call 212-873-2256 M-F 10am-4pm
Nonrefundable unless canceled.
Central Park, Midtown, Financial District, Grand Central Terminal,
and so much more.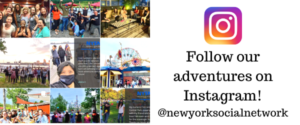 Address:
508 W. 26th Street.
,
New York
,
New York
,
10001