You are not logged in.
Before you can reserve a spot, you must be a NYSN member. If you are a returning user please Sign in. New users please Sign up.
12/31/2022 - 01/01/2023




8:00 pm - 1:30 am
Let's face it–it's a pain deciding on what the best New Year's Eve Party is for you.  There are hundreds of choices that have a vast array of pricing and packages.  It is our mission to put together an evening that you won't forget and will be glad to have attended for a great price. So let's get down to it!
What to Expect:
Stout is a cozy pub that is decorated to the nines for the holidays. It's not a fancy/trendy lounge, it's a friendly bar with a warm atmosphere–not a dive bar.
We have the entire 2nd floor lounge reserved for our group.  There is a bar/lounge section for mixing and mingling and for dancing.
We will have hot and cold appetizers starting at 9pm while they last.
Our NYSN staff will be on hand to welcome you and introduce you to others in the group.
We will have ice breaker games with prizes so that you'll get to meet others at the party.
Music will be played by a live DJ at conversational levels until we start dancing. Classic party tunes, pop, rock, dance, hip hop, etc.
Coverage of the Times Square festivities will be on over 2 dozen screens.
Champagne toast at midnight.
Not overcrowded. We will limit attendance to make it comfortable for everyone there.  We don't want a hot sweaty/atmosphere. The room holds 200 people comfortably but we will only sell 150 tickets.
Party time 8pm-1am.
Why should I go to this party?
If you want to come to a casual and relaxed party with no attitudes this is it. Almost everyone attending will be coming on their own but all will have a connection through our group so you will feel like you are with family & friends.
The Atmosphere:
Casual, friendly and lively. Dress up or be more casual, just be comfortable.  We'll have cocktail music playing when you arrive and step up the tempo as the evening gets closer to midnight. We'll have 2 fun ice breaker games with prizes so that you get to meet as many people as possible. We'll have the place decorated to get you in the mood plus hats, noisemakers and other party favors to help ring in the new year.
What it is not:
This is not a "pack 'em in," hot, sweaty and loud drunkfest.  There are plenty of other parties with open bar packages for that.
Age Range:
This party is open to all ages 21+.  The bulk of the group will reflect the demographic of the group 30s-40s, HOWEVER if you are in your 20s or 50s there will be plenty of people your age as well.  Don't make this an age thing, we are all coming together to celebrate the new year.
Dress Code: We want you to be comfortable.  If you want to dress up most of the crowd will be dressy (just no jeans and t-shirts please).
Is this a singles party?
This event is not exclusive for singles although most attending will likely be single.  This is for NYSN members and friends who wish to ring in the new year in a fun and casual way together.  If you are involved, there with friends or not interested in meeting someone, we'll have a system to let others know that you are not there for that.
How to get there:
Stout is one block south of Grand Central on 41st and Park Ave.  There are several parking garages in the area.
Cost:
$50 General Admission/$40 Lifetime VIP (12/1-12/20)
$60 General Admission/ $50 Lifetime VIP (12/21-12/31 at 12pm)
$70 Day of FOR EVERYONE  (after 12pm)

INCLUDED: room rental, host fee, hot and cold appetizers while they last, party favors, games, prizes taxes and gratuities.   This is a cash bar so drink or don't drink at your own pace. THERE WILL BE NO TICKETS SOLD AT THE DOOR.
Refund policy:  If you find a party that you think is better than ours before December 27th, we'll refund your entire fee.
Code of conduct:  Anyone visibly intoxicated or inappropriate will be asked to leave.
Time of the event: 8pm-1:00am.  However, the bar will stay open as long as there are people there.
If you have questions about any aspect of this party please email dave@newyorksocialnetwork.com or call Dave directly at 212-873-2256.
Illness Protocols/Refunds
In accordance with current city and state protocols vaccination status or masks are not mandatory for this event.  However, we do ask that participants act in a responsible manner and do not attend if feeling ill, showing symptoms or have been recently exposed to any of the current illnesses..  Mask wearing is optional unless the venue or city has mandated that.  Everyone should respect the comfort levels of others as we transition into this next phase of socializing.
This event is nonrefundable unless canceled.  If you have tested positive for Covid or are sick with any ailment  that prohibits you from attending, we will do our best to provide you with credits for select future events with a copy of your positive test results or doctor's note. Credits may or may not equal the cost of the event missed and may only be applied to events selected by NYSN.
Looking for more happy hours, parties, mixers
and social drinking events? Click here.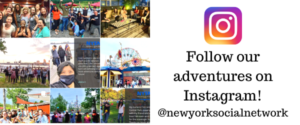 Address:
2nd Floor
, 60 East 41st Street at Park Avenue,
New York
,
New York
,
10017
,
United States
Description:

My venue content