You are not logged in.
Before you can reserve a spot, you must be a NYSN member. If you are a returning user please Sign in. New users please Sign up.
07/10/2023 - 07/14/2023




2:00 pm - 11:00 am
Fire Island is one of the most exclusive and beautiful vacation spots in the New York area.  It is easy to get to via  Long Island Rail Road, shuttle bus from NYC or Car. It is an island of bungalows, quaint villages, fun bars, miles of uncrowded beaches and rolling sand dunes. This will be our 10th year at this amazing  upscale house that offers spectacular views of the bay, the lighthouse and is only a 3 minute walk to the ocean!  Don't miss this awesome opportunity to spend the weekend out of the city with other fun members of the New York Social Network.   Check out the location: Fire Island House.
Early Bird and VIP pricing ends May 19th.  After May 19th VIP members will pay the increased flat rate.
Fire Island
Fire Island does not allow cars, so everyone travels by foot, bike, or boat. While you won't see any cars, you will see tons of beach homes, quaint villages, fun bars, miles of uncrowded beaches, and rolling sand dunes. There are also markets that will have everything you need.
Fire Island Amenities & Activities
Days on the beach (beach chairs and umbrellas are provided)
Biking
Relaxing
Group dinners on the outside deck of the house
Visits to the different villages
Kayaking on the bay
Visit the Lighthouse
Plenty of relaxing time
Lunches on the beach at the house or at one of the bayside taverns
Nights on the deck or cocktails at the local taverns
Local markets will have everything you need
depart at 11am Friday
The Beach House
First, check out this Virtual Tour of our Fire Island Beach House!
House Host: TBD
Now, we'll describe the house!
2 levels with 2,000 sq. ft. of outside decking, 3 shared bedrooms, 2 single rooms, two full baths and one half bathroom, 4 houses from the bay (great for kayaking) and 100 yards to the ocean.
House location: Kismet, NY. Kismet is a sleepy relaxed town on Fire Island. There are 3 restaurants, a market, a pizza and ice cream shop and a liquor store. 2 of the restaurants have live music and dancing at night. Other "livelier" towns are a short water taxi ride away.
Cost
$575pp shared room twin beds (2 per room) VIP Members $550.
$750 Single Room, VIP members $725. If you plan to bring a significant other to share the single room with double bed there is a $200 supplement fee.
You may combine a mid week with weekend stay. Register separately.
Included
-4 nights / 5 days
-Linens/towels
-Access to full kitchen, bikes, kayaks, BBQ, Wi-Fi, home theater, beach chairs, umbrellas and towels, washer and dryer
-Cleaning service
-House chaperone and concierge
Transportation & Directions to Fire Island
You can drive to Bay Shore and take ferry to Fire Island or  Take Long Island Rail Road to Bay Shore, 5 minute cab ride to ferry dock, then ferry to island.  You may have access to the house after 10am on Monday. Check out is 11am Friday.
FAQ's
What to expect? 
A group of 10 mellow New York Social Network members and friends. Male/female 30s, 40s and couples friendly.
What about food?
You can eat at the restaurants which are a 5 minute walk from the house, eat in a different part of the island, bring your own food (there is a modern kitchen with everything you need to cook and an outdoor BBQ) or a combination of all. Plus, we are sure that some of the nights we will chip in for a group BBQ.
Will I feel comfortable coming alone?
Yes, most all of those coming will be coming alone.  Additionally, these trips are some of the best opportunities to meet others in a fun, quality and casual setting.  Everyone is connected through the group.
What to bring?
-bathing suit, sunblock, beach towel
What's available on the island?
There are stores and shops in village for food, snacks, water, beer, wine
More Questions about our Fire Island Beach House?
Call Dave at 212-873-2256 or e-mail dave@newyorksocialnetwork.com
Illness Protocols/Refunds
In accordance with current city and state protocols vaccination status or masks are not mandatory for this event.  However, we do ask that participants act in a responsible manner and do not attend if feeling ill, showing symptoms or have been recently exposed to any of the current illnesses..  Mask wearing is optional unless the venue or city has mandated that.  Everyone should respect the comfort levels of others as we transition into this next phase of socializing.
This event is nonrefundable after May 10th unless canceled.  If you have tested positive for Covid or are sick with any ailment  that prohibits you from attending, we will do our best to provide you with credits for select future events with a copy of your positive test results or doctor's note. Credits may or may not equal the cost of the event missed and may only be applied to events selected by NYSN.
Looking for more trips? Click here.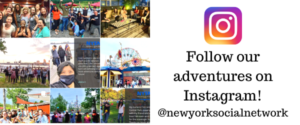 Address:
Kismet
,
Fire Island
,
New York
,
11706
Description:

My venue content