You are not logged in.
Before you can reserve a spot, you must be a NYSN member. If you are a returning user please Sign in. New users please Sign up.
10/22/2022




11:45 am - 11:00 pm
The Headless Horseman Haunted Farm & Houses Experience has been voted the #1 haunted attraction in the country for several years!  The experience takes place over hundreds of acres of farmland that has been converted into a scary Halloween must do!  The experience features hundreds of actors in amazing makeup, professionally crafted sets, the walk of horror, 3 haunted houses, a corn maze and a fun haunted village.  This will get you in the Halloween spirit for sure and enjoying it with a group makes it even better! Read on for more details!
What to Expect from Headless Horseman Haunted Farm & Houses:
-The group will take the 11:45am Metro-North train from Grand Central to Poughkeepsie or you can travel in our van from the city where your guide will pick you up. You can also drive to meet us in Poughkeepsie.
-From the train station we will head to a local orchard/pumpkin/hard cider farm to pick up jack-o-lanterns, apples and enjoy hard cider, hot apple cider and cider donuts!
-After the orchard we will enjoy a catered buffet dinner at our private campsite by the river near the Hayride.
The Buffet Dinner will include:
-Grilled Chicken -Butternut Squash Soup (vegetarian style) -Pasta with garlic, veggies and oil -Baked Fish -Mixed veggies -Salad -Beer, wine, hot apple cider and soda included.   Following dinner we will go to the Headless Horseman Hayride.
-The entire Headless Horseman Haunted Farm & Houses experience takes place on the farm.  You will be outside much of the time. The entire experience takes about 2 hours.
-The scary stuff is meant to be fun not disgusting.
-In some cases people will jump out of corners but they will never touch you.
You will likely be on the 10:54 pm train back to NYC at the latest.
Cost: $170 general members / $160 VIP members.  Add $40 if taking our van from Manhattan *Van  Depart 11:30am from 31st and 8th.
Can I come alone? Yes, most guests do! It's a great way to meet new people.
What if it rains?   The Headless Horseman is in control of the attraction.  There are NO refunds.  You will get a voucher from the attraction only to attend on another date which you will need to get to on your own.
What is included: transportation to and from Poughkeepsie train station and all attractions. Tickets to the Headless Horseman Hayride (which are not cheap),  buffet dinner with beer, wine and soft drinks all taxes and tips.
What to wear: Dress for the weather.
What is not included? train fare,  anything you purchase at pumpkin farm.
Questions? Email Dave Cervini at dave@newyorksocialnetwork.com or call 212.873.2256, M-F 10am to 4pm.
Looking for more adventures outside the city? Click here.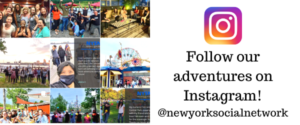 COVID-19 Protocols
In accordance with current city and state protocols vaccination status is not mandatory for this event.  However, we do ask that participants act in a responsible manner and do not attend if feeling ill, showing symptoms or have been recently exposed.  Mask wearing is optional unless the venue or city has mandated that.  Everyone should respect the comfort levels of others as we transition into this next phase of socializing in the Covid era.
This event is nonrefundable.  If you have tested positive for Covid and cannot attend, we will do our best to provide you with credits to select future events with a copy of your positive test results. Please note that due to the cost involved in some activities credits may not be used for the event you missed.
By signing up for this event you agree to conduct yourself accordingly and abide by all the terms and conditions that you accepted when registering for New York Social Network.