You are not logged in.
Before you can reserve a spot, you must be a NYSN member. If you are a returning user please Sign in. New users please Sign up.
02/11/2023




6:00 pm - 8:00 pm
Our Murder Mystery Parties have become an awesome alternative to the usual bar scene.  It is a great way to go out on your own or with friends and meet other fun people in a super fun, organized and interesting way!  For Valentine's Day,  we present MURDER ON VALENTINE'S DAY  where everyone is a suspect!  No expertise is necessary just your love of having fun! 
How it works:
Join us at 6pm sharp for registration.
Our staff will be there to explain everything and introduce you to others at the event.
Once the mystery begins you will be given a character and info you need to start solving the crime. You will be interacting with dozens of people who will be also approaching you for info.
During the night our staff will also add evidence that will bring you closer to solving the crime.
A full menu is available.
Drink specials until 8pm.
You are invited to stay for our Valentine's Day Mixer following the Murder Mystery for FREE (a $15 value)
THE STORY:
Hanna and Harry Heart are legends in the town of Amorville. From the town's most enviable high school sweethearts, they wed soon after high school and today, Hanna's a beautiful NFL cheerleader and Harry's a talented quarterback for the St. Louis Lambs! The Hearts often visit their hometown of Amorville and have made it a tradition to host a Valentine's Day soiree.
This year, they are hosting their party at the lovely and quaint Mio Amore Café. The guests will arrive on scene and enjoy yummy appetizers while catching up on the latest juicy gossip. Hanna plans to get the party going with fun party games and has planned a delectable menu for dinner. Hopefully, the guests will get along, but rumors have been floating around town about scandals, deceit, bribery, and blackmails! The Hearts hope their friends can put their differences aside and have a memorable time at their celebration.
Can I come alone? Yes, most guests do! It's a great way to meet new people.
Cost: $25 general members / $15 VIP members
Dress Code:  At all events we ask that you use your best judgement based on the event. There are never jackets and ties required unless specifically stated.  Keep it neat, be yourself and look your best always.
About the event:  This Murder Mystery is hosted by The New York Social Network. We are not a professional Murder Mystery company.  We are a social organization that offers these activities as part of our events for people to enjoy a night out, try something different, make friends, celebrate an occasion with groups of  friends, etc.  It is done in a very fun and casual way at a local lounge. THIS IS NOT A DINNER EVENT. It is more of a cocktail party atmosphere.   Some people get really into it and come dressed up for the theme an others just come to have fun, it's up to you.  The main thing is to have fun! If you have any questions feel free to reach out to us at 212-873-2256. Or email dave@newyorksocialnetwork.com.
Ages: 21+
Questions? Email Dave Cervini at dave@newyorksocialnetwork.com or call 212.873.2256, M-F 10am to 4pm.
Nonrefundable unless canceled.
Illness Protocols/Refunds
In accordance with current city and state protocols vaccination status or masks are not mandatory for this event.  However, we do ask that participants act in a responsible manner and do not attend if feeling ill, showing symptoms or have been recently exposed to any of the current illnesses..  Mask wearing is optional unless the venue or city has mandated that.  Everyone should respect the comfort levels of others as we transition into this next phase of socializing.
This event is nonrefundable unless canceled.  If you have tested positive for Covid or are sick with any ailment  that prohibits you from attending, we will do our best to provide you with credits for select future events with a copy of your positive test results or doctor's note. Credits may or may not equal the cost of the event missed and may only be applied to events selected by NYSN.
Looking for more Scavenger Hunts? Click here.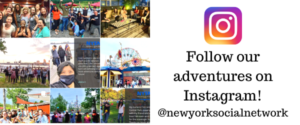 Address:
6 West 33rd Street
, Between 5th and Broadway,
New York
,
New York
,
10024
Description:

My venue content