You are not logged in.
Before you can reserve a spot, you must be a NYSN member. If you are a returning user please Sign in. New users please Sign up.
08/20/2021




6:30 pm - 9:00 pm
The sunset over the Hudson River from Riverside Park is stunning.  Join us for an after work picnic where you can sit back, relax and socialize with others in this beautiful setting just 2 blocks from the 79th Street subways. COVID-19 protocols will be in place.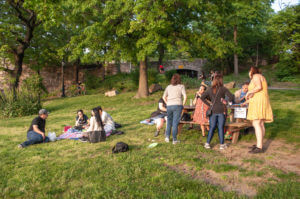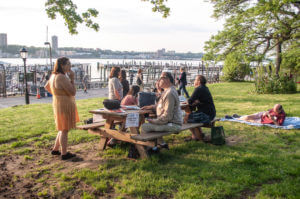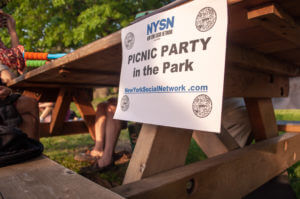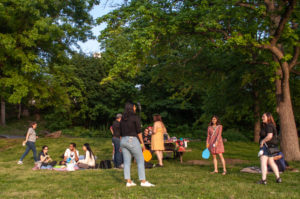 What to expect:
A few dozen easygoing members and friends gathering in the grassy area next to the old 79th Street Boat Basin Café on the Hudson River.
Our staff members will be on hand ready to welcome and introduce you to others in the group.
We will have several ice breaker games with prizes plus a few fun things for you to participate in like Frisbee, bocce ball, cup stacking race, egg toss, card games and more!
As the sun sets you can sit back and relax, socialize and participate in the games.
Bring your own food and beverages.  If bringing "adult" beverages, you will need to be very discreet.
How it works:
Register below and we will send you very specific directions on where to meet us in the park.
When you arrive we will sign you in and explain the flow of the evening and introduce you to others at the party.
Bring something to sit on such as a blanket, folding chair, or towel. Bring your own food and drinks if you like.  There are several restaurants, delis, and diners at 79th and Broadway (the subway stop)
Hang on the blankets, play games, or walk over to the café for an adult beverage.
After the sun sets, you can head out or join the group at a local bar.
COVID-19 Protocols:
This event is open to vaccinated and non-vaccinated members.
If you have been vaccinated please show the host your vaccination card or Excelsior app.
If you have not been vaccinated, please do not come if you have been exposed or have recently tested positive.
We will take temperatures when you arrive.
If there is a mix of vaccinated and non vaccinated participants we will have to ask that masks are worn while in close proximity to others or in following the regulations and guidelines of the venue or location of the event.
Cost: $15  ($10 for VIP members) goes for the staffing, games, and prizes.  It also means that you are more likely to show up!
Please Note: The best time to arrive will be between 6:30 pm-7:30 pm for maximum socializing and games.
How do I get there? The #1 train stops at 79th and Broadway.  It is then a 2-minute walk to the river.
What if it rains? If the weather is bad we will reschedule or cancel and send refunds.
Can I come alone?  Yes, 98% of those attending this event will likely register on their own. You are welcome to bring as many nonmember guests, friends & coworkers as you'd like, just make sure to register for the number of people that you want below. Our staff will be ready to greet you and introduce you to others whether you are on your own or with guests.
Do I need a ticket?  Unless otherwise instructed, if you registered and paid for this event or registered with a voucher your name will be on a list at the door.  If you register within 3 hours of the event it is best to bring proof of payment.   If registering with a voucher follow the instruction on the voucher.
Dress Code:  Be comfortable and casual.
How will I find the group?  We will send you a confirmation email with exact locations, contact info, and names of those who are hosting the event when you register for the event and send follow-up emails as we get closer.
Ages: 21+  Most of our events attract the 20s to 40s age range although some events can skew younger or older (50s) depending on the event. Some events are clearly age specific as indicated.  If this is an issue for you contact Dave at the address below and we can usually give you a very accurate idea of what to expect.
Questions?  Contact Dave Cervini at dave@newyorksocialnetwork.com or call 212-873-2256 M-F 10 am-4 pm
This event is nonrefundable unless the event is canceled or rescheduled.
By registering for this event you take full responsibility for your actions and agree to conduct yourself accordingly.
Venue Phone: 6464181098
Address:
On the Hudson
, 79th Street Entrance,
New York
,
New York
,
10024
Description:

My venue content